About Our Holistic Dental Practice
Providing holistic dental care in San Diego, we are committed to offering you unsurpassed, patient-centered care within our nurturing surroundings, using the most advanced materials and procedures. Our comprehensive approach to cosmetic/holistic care ensures your path to a healthier, more beautiful and confident smile.
Our patients trust Integrative Dental Practice to deliver uniquely supportive holistic/cosmetic care because we listen carefully to all of your concerns and look for the most balanced solution to address your needs.
Our patients often comment that they…
Enjoy visiting our relaxing, peaceful office
Notice the kindness of our caring and knowledgeable staff
Appreciate the support our team has given them
Are thrilled at how they feel after their smiles have been transformed
We provide the finest bonded dentistry to create every type of cosmetic improvement.
We use biocompatible materials that are natural looking, extremely durable and will not cause sensitivity.
We are able to provide dental materials testing when necessary
We specialize in inlays and onlays to conserve tooth structure, often preventing the need for crowns and root canal therapy.
We offer metal free dentistry, with the exception of select gold alloys in specific cases.
We follow a strict protocol during metal removal to prevent exposure.
We provide a more biological approach to root canal therapy.
We have developed a natural program that can prevent and often reverse the problem of gum disease and its effects on dental health.
We are extensively networked with other health care practitioners to assist you in finding wellness solutions as needed.
We employ homeopathics to speed up recovery and improve the quality of the healing process.
We have created a non toxic office environment to support wellness
Learn More about Holistic Dentistry
Have you put off doing the dental work you need because you are afraid it might fail?  You may have had the right idea!  Have you heard that all root canals are bad for you?  Or that a titanium implant blocks the meridian flow, or can corrode because of the acids in your mouth?  Or that extractions are bad for you because they might lead to cavitations or dry sockets?  In fact, all the above are possible.  If you are immune compromised in any way, pay attention, because what you are going to learn here can make a difference between success and failure when it comes to dental surgery of any kind, whether it be root canals, implants, extractions or even gum procedures like deep cleanings.
Did Dr. Price have it right when he put out his research on infected root canals and the focal infection theory nearly 100 years ago?  Over the next few weeks, I will be reviewing the seminal work on root canals and how they affect systemic health.  I'm often asked by my patients whether it's better to get a root canal vs an extraction.  I will be attempting to answer this question by taking a deep dive into the research.  However, I will not just be looking at one side of the issue.  I will be looking at it from all angles and summarizing what opposing sides have to say about this hotly contested subject within dentistry vs alternative health world.  Needless to say, opinions vary wildly from one extreme to the other.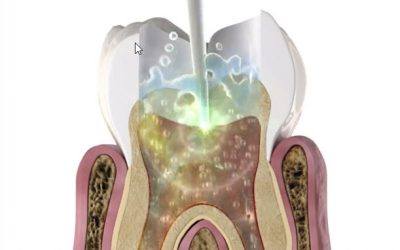 No one wants to lose a tooth.  This is very natural and normal.  Thanks to the advent of Photon Induced Photoacoustic streaming (PIPS), a technology licensed to Fotona utilizing the Er:Yag laser, we can now eliminate bacteria in root canal teeth.  This is the good news, and a game changer in root canal therapy.